Gati KWE online booking on eCourierz.com
Gati Limited is India pioneer in Express Distribution and Supply Chain Solutions, committed to make their customer business always ahead while partnering with them to elegantly customize the delivery offering.
Gati advantage of seamless connectivity across air, road and rail has resulted in a plethora of offerings to the customers, unmatched in the industry. Gati operates a fleet of more than 5000 vehicles on road, and over 3100 business partners across India.
About Gati KWE Courier Services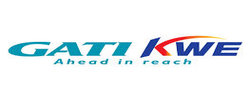 Gati pioneered express distribution service in India in 1989. Gati was one of the first companies to print its delivery date on the docket and offer money back guarantee, by accepting payment after producing proof of delivery – a POD. Gati started the practice which is now perceived as a standard norm in the industry. Gati first started operations between Madras and Madurai. After in-depth planning, Gati launched its operations in four stations: Hyderabad, Bangalore, Madras and Hosur in 1989,in the generic cargo segment.
Gati business model was different, it choose to focus on the customer needs right from day one and time bound, point to point delivery, premium priced cargo management service was its key value proposition. The name Gati was coined after short listing several Sanskrit-based names . Gati reflects speed with direction, true to the way of its operations.