SkyNet WorldWide Express online booking on eCourierz.com
SkyNet best prices available on eCourierz.com. Using eCourierz.com or eCourierz mobile app , customers can book domestic and international couriers with debit card, credit card and net banking. SkyNet has a branch of around 45 locations across India and is an associate partner of Toll Global Group Australia.
Toll Priority Group owns and operates 141 cargo aircrafts flying into 371 stations everyday in the regions of Australia, New Zealand, Papua New Guinea, Fiji Island etc.
Now sending a courier with SkyNet is now easier than ever and just a few clicks away.
About SkyNet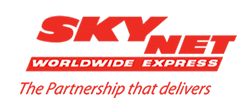 SkyNet WorldWide Express started its operations as "Sky Courier" now Skynet 1980. Skynet India started as the pioneer in courier business space when the courier business was new in itself to the India economy. Over the years, the express logistic industry has evolved into an environment supported by large single source providers. We have thus created a range of services in the air logistic mode, both international as well as domestic services. Our focus has been more into consolidating our customer's requirement in providing a one window solution, thus building a long term relationship.
To be successful in our expansion plan in today's market place we widely use advance information and technology systems and customer services techniques which we feel is a key component in providing high quality services. With help of these systems, we update are customers with the status, location and history of the shipment thorough out the supply change process.
As the single window solution we believe that the business module is flexible in suiting every requirement of the customer and in maintaining a competitive edge in providing consistent, door to door delivery.